10/28/2021
October Design Event: Designing the Community
Marlene Imirzian was invited by Green Living Magazine to speak about net zero home Home nz and sustainable building materials, ventilation and daylighting.
Home nz provides a new model for single family home construction in Phoenix: a modern home with open, flexible spaces designed to operate at near net-zero energy use.
Structural insulated Panels (SIPs)
Structural insulated panels (SIP) provide structural support and continuous insulation. These panels form the building walls and roof, for a highly insulated exterior.

Solar Energy
The house provides areas for photovoltaic panels on the roof. The planned panel layout provides for optimal performance and avoids all shadows cast from the solar chimney or parapet walls.
Because of the overall energy efficiency of the house, only 18 photovoltaic panels are required for power, and 2 panels for solar water heating. The design incorporates provisions for a battery backup system to store the solar energy collected by the photovoltaic panels.

Passive Cooling
The solar chimney provides natural convection of air throughout the house for ventilation and cooling. During the hottest days of the year, the house is naturally cooled without the use of compressors and inefficient mechanical equipment.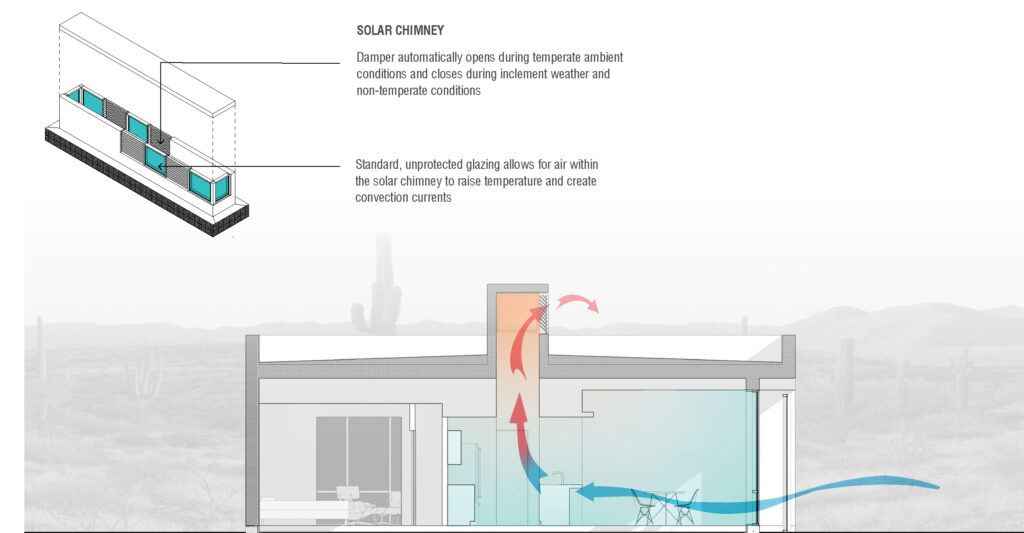 Daylighting & Shading
The house incorporates the use of highly efficient 'Solarban 70XL' glass to reduce heat transmittance. Operable windows are located throughout the home.Protective fabric screens prevent 95% of direct sunlight from reaching the glass, drastically reducing the solar heat gain.
Click HERE to read more about Home nz!